Natural Stone Countertops
Granite, Marble, & Quartz Countertops St. Louis, MO
To appreciate the modern countertop, one has to step back in time to the earliest countertops. When a cook needed more than a stone hearth, they used the most abundant materials available, which were stone and wood.
Later, local soapstone and slate became the stone options chosen by many builders when creating countertops. Marble was the choice for bakers, as it provided a cold, beautiful surface upon which to knead and roll out their dough.
There was a period where modernization led us away from stone and wood as the predominant countertop materials. We made countertops out of ceramic tile, Formica, and other low-durability materials. But, as we quickly learned, cheap materials were easily damaged and didn't offer the longevity of stone. As a result, the demand for remodeling seemed endless.
Instead of becoming victims to our folly, and repeating these mistakes, we accepted the lesson and returned to stone materials for countertops. The increased cost became a point of value since stone offers longevity and an ROI upon resale that other materials did not. The introduction of granite countertops into kitchens in the nineties took kitchen design by storm.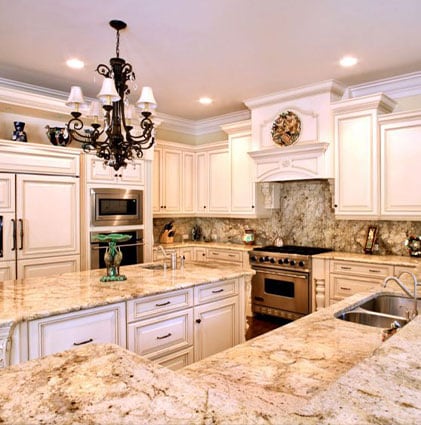 Because we are no longer dependent on local materials, our taste in stone countertop options has expanded considerably. Modern transportation, mining, cutting, polishing and sealing methods opened the door to an abundance of newer stone countertop materials such as onyx, travertine, limestone, and quartzite. Each of these materials have their strengths and drawbacks, but they're all incredibly beautiful and long lasting.
We now have an almost unlimited variety of options in colors and textures in these materials. In fact, with the introduction of quartz, we have created a blend of stone and resin to produce a countertop material which is incredibly strong and virtually maintenance free.
With care and maintenance, a stone countertop will last for the life of the home. We have returned to the stone hearth of our forefathers. While it is almost unrecognizable as such, we have made it our own: stone countertops offer the durability and classic beauty of the past side by side with modern style.