Change The Face Of Your Fireplace
Fireplace Surrounds St. Louis, MO
A fireplace face should always be made out of stone which is strong enough to hold up well under intense heat without cracking, but also, as previously mentioned, should blend seamlessly with the decor theme. Color, texture, and even the size of the pieces are major considerations as they will have an impact on the final product. The options, even within these restrictions, are abundant.
The surround is comprised of five basic parts which create the fireplace facing. These parts connect to create the framework of the front portion of the fireplace.The header is the bar across the top of the front, the two legs run horizontally, one on each side, the hearth out front and center, and the riser, which is the horizontal bar that sits on the hearth.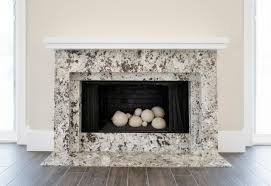 The process of choosing stone for your fireplace surround starts with the understanding that the fireplace is going to be an integral part of the room 's theme.
Whether it's rustic, Old World, modern minimalist, or something else, the stone should follow the rest of the decor to create the desired mood.
Heat resistance is an essential component of choosing fireplace stone. Some of the softer possibilities are acceptable for use with an electric or gas fireplace, but wood fires can be intensely hot and therefore softer veneers can crack. Examples of those which are too weak for wood fires are slate and limestone. Even soapstone can break after many years of hard use. The best solution is to buy stone which is safe for the desired application.
Examples of fireplace safe materials which hold up well under heat are granite and even marble, although the later can be a little more costly. Since drywall is a combustible material, a twelve-inch radius of non-flammable, fireplace safe stone is desirable to help keep your home safe.
Regardless of which look you choose, a natural stone fireplace face will be an exquisite addition to your home decor. Stone elements will create an exceptional fireplace which family and friends will enjoy for years to come. Fire and stone also have a unique synergy, one which will readily add ambiance and value to your home.
The benefit of using granite for your fireplace surround is the durability. When properly sealed and cared for, granite will not stain and it is very difficult to scratch, ding or crack.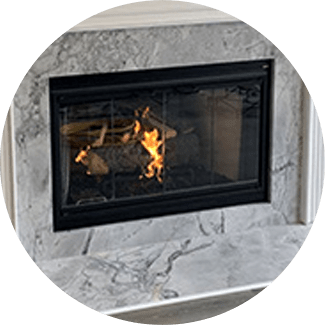 Marble is known for is luxurious and elegant appearance. This is one of the most popular types of stone chosen for beautiful features in a home, including fireplaces.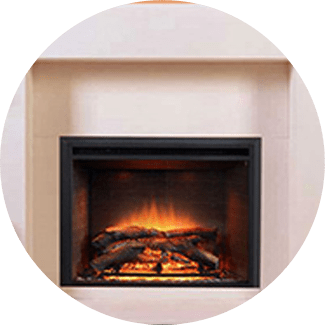 The durability of quartz is very high. It is dense, resistant to scratches and sure to fit into any lifestyle. Add personality to your home by choosing quartz as your fireplace surround.
Our team is here to help you find the perfect fire surrounds for your new home or business project!