Granite Countertop Cleaning & Care
How To Care For Your Countertops
Once your countertop project is complete, you may wonder how to care for this fabulous improvement to your home. Ninety nine percent of all countertop care involves nothing more serious that wiping it down with a warm soapy rag. Nothing acidic, harsh or abrasive should ever be used on them.
Periodically, countertops will require re-sealing. Following the regular cleaning, allow the countertop to dry. Once it's dry, apply a small quantity of sealer to the countertop by pouring it directly on the surface. A paintbrush can be used to spread it evenly on the surface. Some people use a paper towel, instead.
The sealer soaks into the stone. To use corresponding characteristics of personal products, sealer is more like a lotion and less like nail polish. By following that line of thinking, it's easy to understand why you should go back after five to ten minutes and wipe away the excess using another paper towel.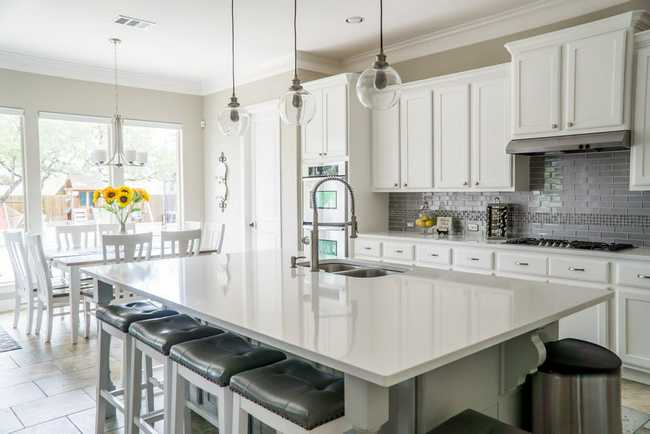 It's easy to see why homeowners love their countertop and the ease with which it looks fantastic and yet they can care for it without much effort at all. Having said that, there are sealers which come with so-called warranties which promise their sealer lasts a lifetime or a different specified timeframe however they require a re-seal treatment on an annual basis. Doesn't that defeat the purpose? Rock solid offers a true 25 year transferrable warranty sealer that requires no re-seal maintenance.
In addition, soft vs. harder materials really might need more care. Softer stones such as marble, travertine, limestone, or soapstone should be cared for in various other ways besides just sealing.
In addition to a sealer, there are daily cleaning supplies such as 3-in-1 which works as a cleaner and maintains the seal. Another product, our Exterior Color Enhancing Impregnator, is a new solvent-based product for exterior surfaces. Not only does it bring out the grain and texture of the stone, but it's water, dirt, and grease repellant, as well
Granite Countertop Cleaning & Care
Daily Cleaning of granite countertops is simple. Use a warm soapy rag with liquid dish soap, preferably light-colored and containing no aromatics. This is a gentle way to clean the grease and grime from your granite counters without damaging them. If you use plain soap and water it will lead to soap scum build up over time. This will dull the glossy finish of your polished material.
Rock Solid carries a line of cleaner specifically formulated for cleaning your natural stone. Please see later pages for more information on care and maintenance. Do not clean the surface with products containing acids or abrasives. One of the most attractive things about granite is the Heat Resistance it has. You have the freedom to take hot pans right out of the oven and place them directly on the countertop without fear of damaging your granite. No other countertop material can make this claim.
Granite resits Scratching better than any other surface on the market. This is because granite is so hard. In fact, the only thing harder than your granite countertops that will scratch them is a diamond or another piece of granite. If someone intended to scratch granite it can be done but with normal cutting and food preparation, granite will be scratch free for a lifetime.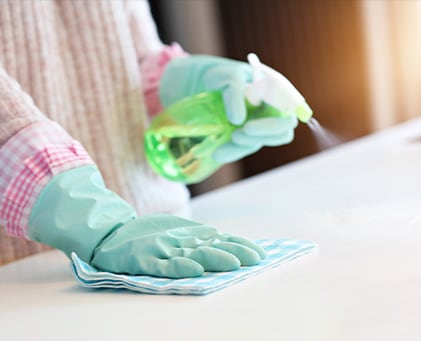 Countertop Maintenance Help
After the installation of your new countertop, you may have questions about the care of your new stone product. A wet, soapy rag does wonders. We have an excellent cleaner and sealer available for sale, as well. If you do need care and maintenance help, we always welcome a call or visit to our website. Since each type of stone can have slightly different maintenance needs, our helpful staff is well versed in the ways to maintain the beautiful luster of each piece. We greatly enjoy offering customer service!
With proper care, a countertop can be expected to look its best for the next hundred years! Proper care entails nothing more than cleaning with a gentle cleanser and periodic sealing. Beyond that, wiping up spills immediately and being gentle with the softer stones to prevent scratches is all it takes to care for stone surfaces. Learn more about  countertop maintenance. 
If you have questions about the care of your new stone surface, about cleaners, sealers, or other products, contact your installer or our main office. We are always happy to answer your questions. We want you to be satisfied and confident about your purchase and enjoy it for many years. In spite of the best intentions, sometimes things happen, and a countertop gets damaged. If a mishap occurs which results in chipping, scratches, or some other form of breakage, contact us for a repair. You might be surprised at the types of damage which we can successfully repair. Our expert staff can help!
Our team is here to help you find the perfect sinks & faucets for your new home or business project!