The Right Vanity For Your Bathroom
Bathroom Countertops St. Louis, MO
When a homeowner begins a bathroom remodel, the function is no longer the primary consideration. Beauty and comfort have now taken their rightful places as equals in the process of creating a bath which respects these mandates during the remodeling project.
One of the essential considerations, as it is the most significant piece of furniture in the room, is choosing the right vanity and corresponding countertop. A vanity also creates a lasting effect on the visual impact of the visitor to the bath.
Options in vanity styles have risen sharply in the last few decades. Whether single or double, a repurposed antique or something more modern, nothing is off the table when it comes to a bathroom vanity. The reason is that advances in technology have made creating corresponding countertops a project that a custom installer can fabricate with the right skills and tools.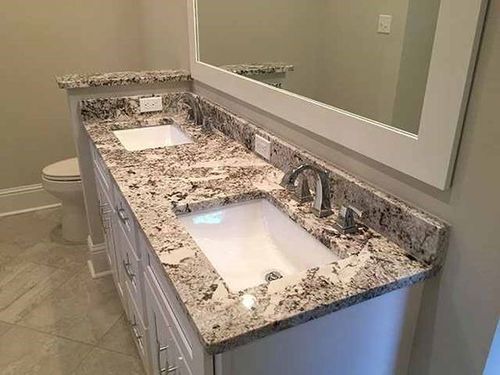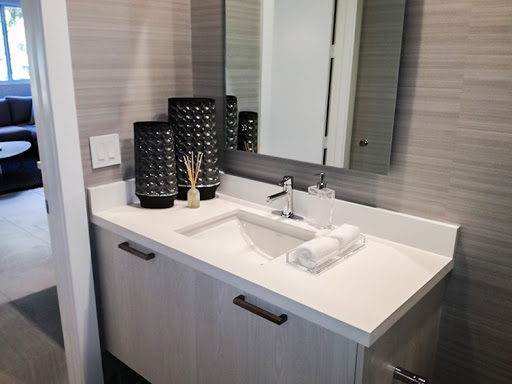 Bathroom countertops selections have kept pace with the trends in vanities admirably. What we see quite often is the countertop which either matches the theme of the vanity, or is a bold contrast, either in color or style. Each of these options results in a visual theme which creates interest. A dark wood vanity with a richly patterned granite countertop is equal to a white or gray bathroom vanity with a cool marble countertop. The same white marble countertop is striking when paired with the dark wood vanity. As always, the tastes of the homeowner will create the look and feel. Tips on how to choose a good bathroom countertops.
Once a homeowner chooses a design for their bathroom remodeling project, the options in the vanity and countertop will give way to the details in decorating, including the lighting, fixtures, mirrors, drawer pulls, and other significant decorating components. The essential purpose is foremost, but beyond that, these details must be cohesive in unifying and bringing the theme of the bathroom together.